Updating your Mind Map
I researched some more landscape artists to add to my mind map.
Inka Essenhigh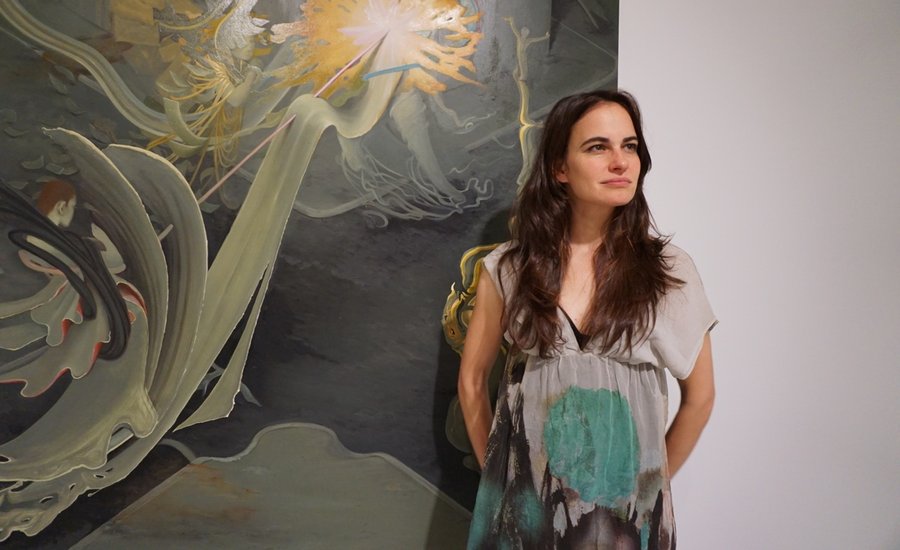 Inke Essenhigh's work draws on contemporary culture and her immediate environment. Her work has a dreamlike, surrealist quality. I really like how everything is so curved, and flows so beautifully. I also love her vibrant colours. The following two paintings depict trees, which are really beautiful. In the first, you can see her flowing style, in calming shades of green. In the second, you can see how she has used a stark, white background and aerial perspective to emulate a barren feel, like very early spring, with the trees having no foliage, but there is evidence of growth, in the areas of green.
I would out her in a category, on the mind map, of surrealists. Also contemporary and using oils. I think her work stands out as being unique, and is not really like anyone else's work here. It is semi abstract, yet there is also an element of realism. It is good to see another female artist on the mind map.
Hernan Bas
(Born 1978 – )
Hernan Bas' work makes landscapes a realm for the supernatural and the sinister. He is interested in the occult, and some of his works are inspired by this fascination.
The themes of his later works are more universal and spiritual.
The first painting below, The Lonely Martian, keeps with the supernatural theme. The trees and forest are mysterious and colourful, and lead to a focal point in the painting, which is the boy, or martian. It makes me wonder if 'martian' is a metaphor for himself. The second painting, Pink Plastic Lures, is fascinating. again, it has both the landscape and the human element interest.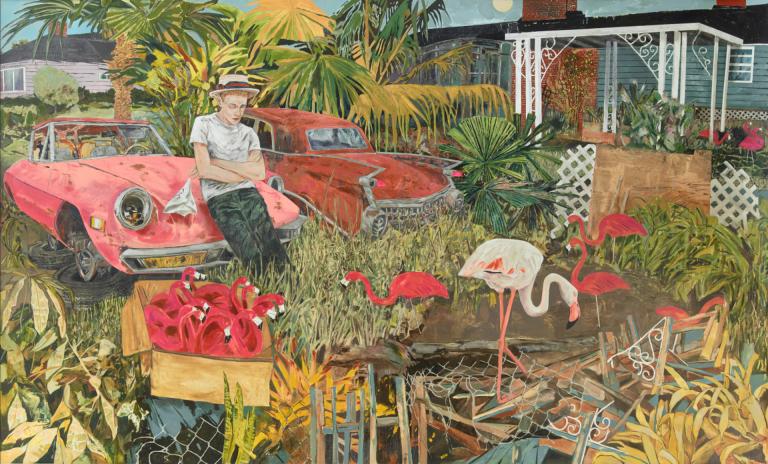 I think Hernan Bas could also be classed as a surrealist, but not in an extreme way like Dali, for example. His work has elements of realism, such as the people and aliens he paints into the scenes. He is comtemporary, and would fit with the mixed media artists on the mind map.
Amy Bennett
(Born 1977 – )
Amy Bennett works in an extremely original way. She constructs miniature 3 dimensional structures and landscapes, then uses these to create paintings.
You can see, from her paintings, that there is a great element of realism, in the details and proportions. The foliage is not detailed, however, and to me, this contrasts greatly with the realism of the houses. I love her attention to detail.
I think, due to the way she works, using her three dimensional constructions as a reference, I place Amy Bennett in a category of her own on the mind map. However, I would class her as a realist, and would also link her to Hernan Bas, in that they both bring a human element into their work.
ENRIQUE MARTINEZ CELAYA
(Jun 9th 1964 – )
Enrique Martinez Celaya is a Cuban born artist. He originally trained as a physicist and has masters degrees in both physics and fine arts.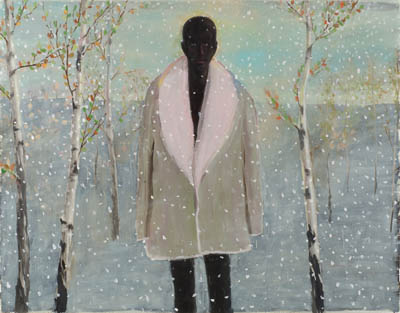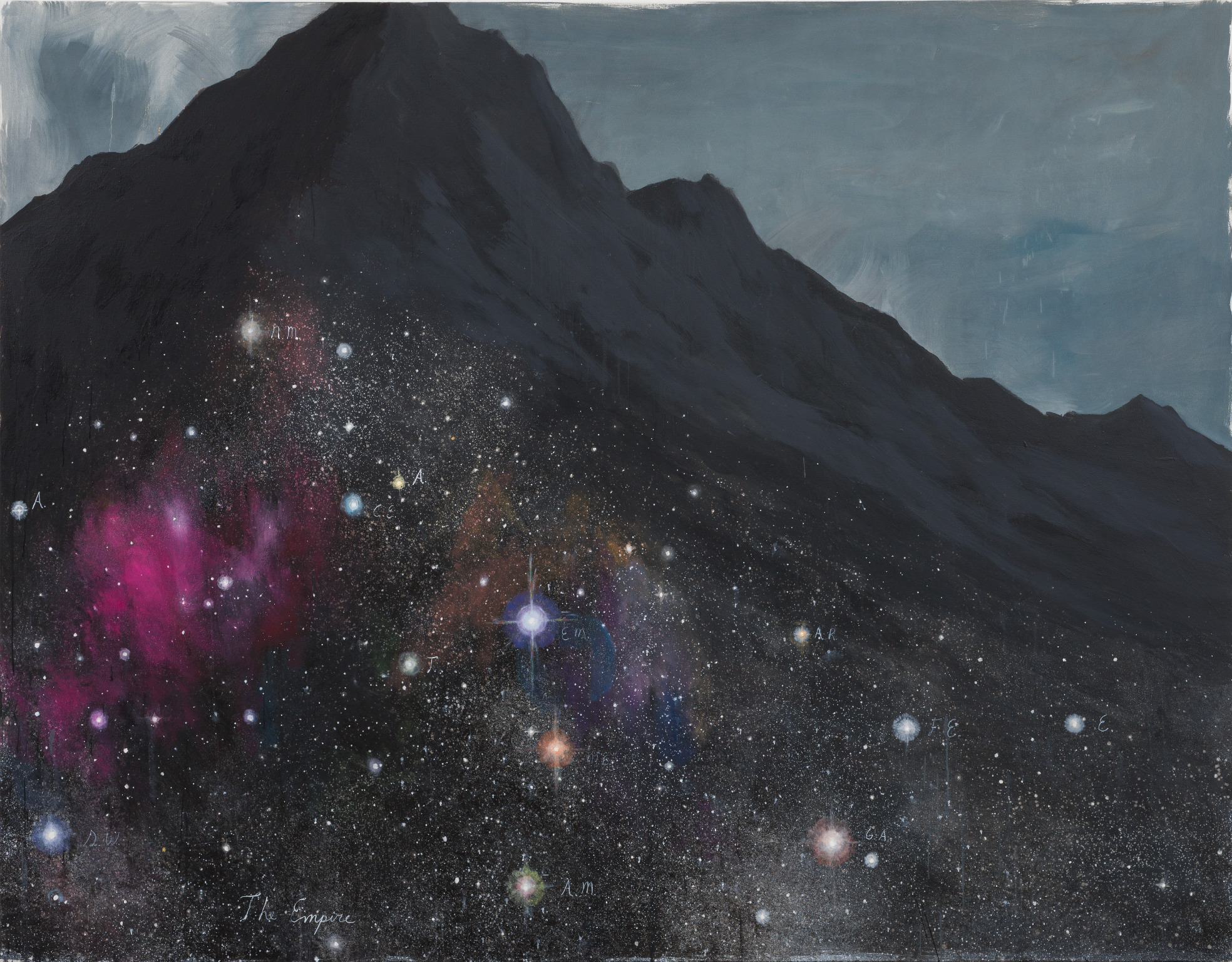 Much of his work contains a human element, so I associate him, on the mindmap, with Amy Bennett and Hernan Bas. I would also link him to Breugal, as they both painted humans in tree scenes. His work isn't true realism, nor is it expressionistic, really.
REFERENCES
Inke Essenhigh At: https://www.artspace.com/magazine/art_101/lists/8-contemporary-landscape-painters-pushing-the-genre-forward-56162 (Accessed 17/07/21)
Summer Landscape, Inke Essenhigh, 2013, Oil on paper At: https://www.artsy.net/artwork/inka-essenhigh-summer-landscape-1 (Accessed 17/07/21)
Fog Spruce with Orange Fungus, Inke Essenhigh, 2017, Enamel on Panel, 48 x 48 inches At: https://www.inkaessenhigh.art/painting-archive-1#/2017/ (Accessed 17/07/21)
Hernan Bas, The Lonely Martian, 2006, mixed media At: https://www.phillips.com/detail/hernan-bas/NY010409/41 (Accessed 17/07/21)
Hernan Bas, "Pink Plastic Lures," detail, acrylic on linen, 2016. Courtesy of the artist and Lehmann Maupin, New York and Hong Kong At: https://www.scadmoa.org/exhibitions/2017/florida-living (Accessed 17/07/21)
Enrique Martínez Celaya Burnt 2007, oil and wax on canvas, 28 x 35.5 cm. Courtesy the artist and Liverpool Street Gallery, Sydney. At: https://www.artlink.com.au/articles/3157/the-lovely-season-enrique-martinez-celaya/ (Accessed 17/07/21)